It took a leap of faith for Rabbi Dr. Ariel Burger to found his own nonprofit organization. With a background in Jewish Studies and Conflict Resolution, he had started his career in nonprofit management with various organizations and foundations in Boston and was also considering teaching as a career path.  But in 2016 his personal mission led him toward a road less traveled: launching a new nonprofit organization to carry on the educational legacy of his longtime mentor Elie Wiesel.  
Ariel's motivation stemmed from a confluence of factors: the divisive 2016 election; the increase in shocking hate crimes, including the Pittsburgh synagogue shooting; a deeply polarized nation; and the rise of populist regimes across the globe. That year, Elie Wiesel passed away. "How could I capture and share a great moral educator's wisdom," Ariel reflected, "not only the content of what he taught but his methods for clarifying messy political situations, fighting hatred aggressively, and inspiring people to move from being spectators to history to becoming actively involved witnesses – moral change agents who can influence their communities?"
Ariel's organization began as a fiscally sponsored program of FJC in 2017, and it is now poised to spin off into a new, more ambitious phase as the Witness Institute. The Institute's flagship program, the Witness Fellowship, will convene and support leaders with high potential to influence society. In addition to training emerging leaders in moral education and activism, the Witness Institute is providing educational tools, podcasts, and more to thousands of people, with Ariel as scholar in residence, engaging Institute Fellows and faculty.
The Witness Fellowship inaugural cohort features a diverse group of inspiring leaders reflecting a variety of fields and passions: public education, comedy and therapeutic practice, advocacy for the rule of law, racial justice activism, and Holocaust education. Consisting of semi-annual retreats, ongoing online learning, weekly 1-1 study, and summative projects, the Witness Fellowship will nurture a new generation of activists, working to change the world on a variety of scales from the international to the hyper-local.
Ariel began his journey as a student of Elie Wiesel, serving alongside him for five years at Boston University as a doctoral student and teaching assistant. But his relationship with Wiesel went back even further to the age of fifteen, when Ariel was introduced to Mr. Wiesel following one of his public lectures. "I am tongue-tied," Ariel writes of this first meeting. "This is the man who survived horror to become a confidant of kings and prime ministers. This is the man who traveled to conflict zones so he could bear witness to suffering and who was awarded the Nobel Peace Prize for doing so."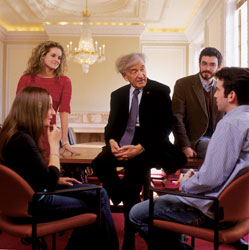 Ariel's initial meeting with Elie Wiesel, and their subsequent 25-year relationship, is chronicled in Ariel's book Witness: Lessons from Elie Wiesel's Classroom. In the book, Ariel grapples with what it means to be a student of Mr. Wiesel's, posing fundamental questions of faith and identity. "Most of all, it means remembering the past and understanding the link between past and future," he writes. Ariel's insightful and moving book won the 2019 National Jewish Book Award, in addition to being a December 2018 Indie Next List Pick and a Publishers Lunch Buzz Book.
When Ariel decided to found an organization, his efforts had received the blessing of Mr. Wiesel before his death in 2016, and received further validation from Elisha Wiesel, Elie's son, who has acted as the organization's founding board President.  "I am proud to be embarking on a new path with my friend, Rabbi Dr. Ariel Burger," says Elisha.  "We believe that all of us who live in this fractured world that my father left almost five years ago so desperately need his understanding – of ethics, activism, and how to battle hatred and indifference – in order to respond to the challenges we face."  Under Ariel's and Elisha's leadership, the Institute is identifying potential start-up and 'founders circle' supporters. 
As Ariel embarks on this new phase of growth for his nonprofit efforts, he reflects on the importance of fiscal sponsorship to incubating the idea. The project's initial funders could only provide multi-year philanthropic support to a 501(c)(3) nonprofit. As part of FJC's Fiscal Sponsorship Program, Ariel's nascent organization could receive tax deductible donations under FJC's 501(c)(3), and FJC was able to handle the administrative operations of paying vendors. Says Ariel, "Having FJC's support behind me, taking care of the details, allowed me to be responsive to the moment, to take the risk, to take the plunge."
The Witness Institute welcomes donations during its inaugural year at all levels to support its global changing work at https://witnessinstitute.org/donate or email ariel@witnessinstitute.org.